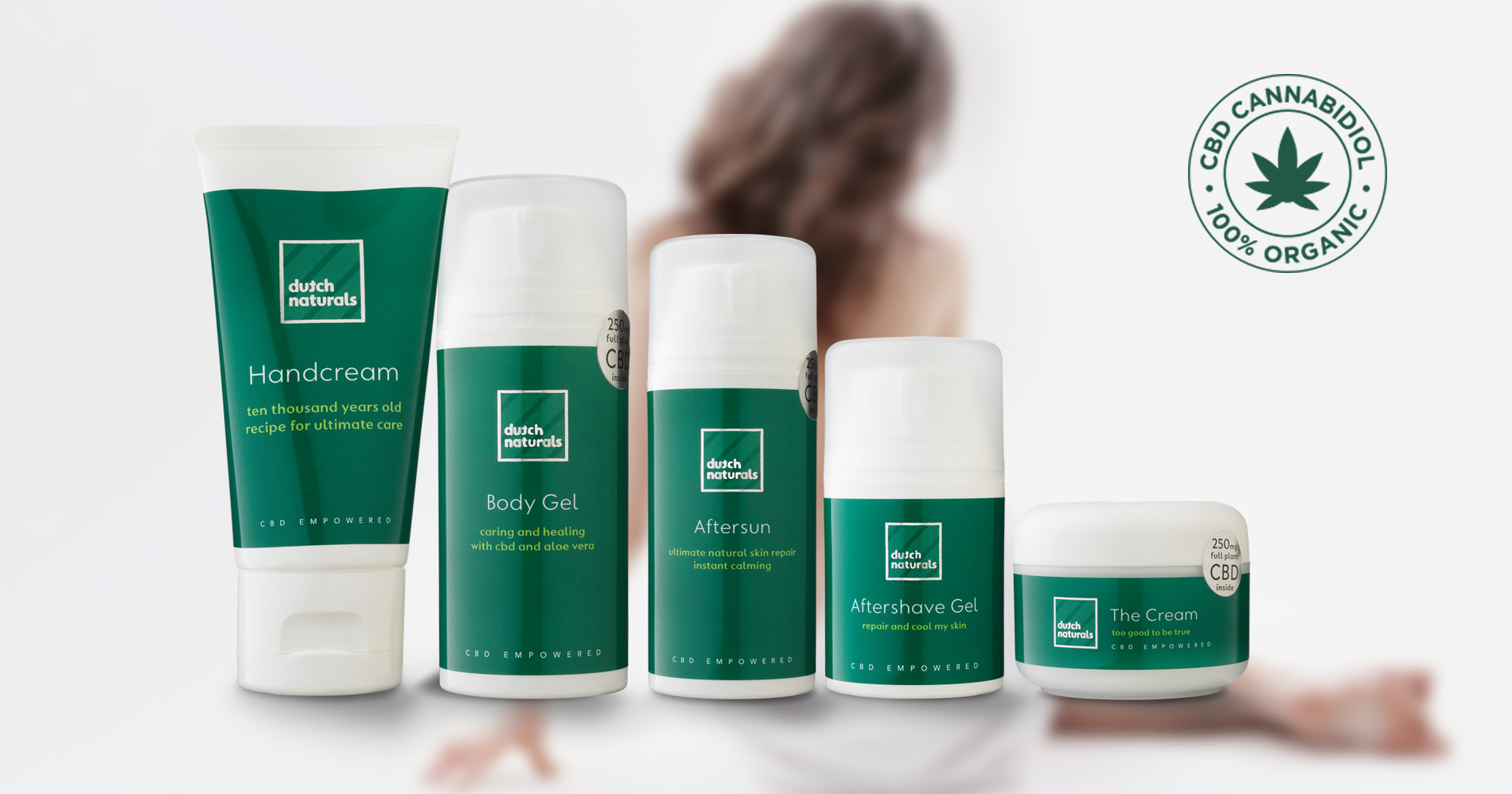 20 Jul

Benefits of CBD Skincare Cosmetics: Cream and Body Gel

The popular hemp-derived cannabinoid Cannabidiol (CBD) appears to be a great addition to your skincare routine. Though obviously, you won't have to apply fatty CBD oil – meant for oral consumption – to your skin. As there is a variety of effective skincare products available on today's market. Like Dutchnaturals CBD Skincare Cosmetics: a range of natural and effective, certified CBD skincare products for various purposes. These are the benefits of CBD Skincare products and the different cosmetics you can choose from:
Natural CBD Skincare Cosmetics
CBD's popularity has increased immensely over the past few years. With a growing body of research to support Cannabidiol's efficacy in treating various conditions as a result. Though where most people instantly think 'CBD oil' upon mentioning the hemp derived substance; ingesting it is not the only way to benefit from the healing cannabinoid.
In fact, adding Cannabidiol (CBD) to your daily skincare routine could be just what you need to support a healthy and smooth skin. And although it is easy to simply apply a fatty hemp oil onto the skin to reap CBD's benefits. It's not the best, nor most cost effective way of going about that. That's why we've spent over two years developing the best, all-natural range of effective CBD Skincare Cosmetics available today. If we may say so, ourselves.
Soothing CBD Cream and hand cream
The product it all started with for us, is 'THE CREAM'. A formula containing a variety of different cold-pressed oils. Next to a full-spectrum hemp oil featuring 250mg organic Cannabidiol per 100ml, of course. Meaning that this cream contains not only CBD from hemp. But also includes all other cannabinoids, cannabinoid-acids and terpenes present in the plant. Offering the best possible entourage-effect, supporting the cream's efficacy in improving your skin's precious health.
Thanks to the addition of jojoba oil for example, this fine skin cream offers a very beneficial and caring effect on the skin. The Calendula oil (marigold) in the product promotes healthy cell division, which stimulates damaged skin to heal. Another good example of the wonderful natural ingredients in this cream is the coconut oil. Its unique small molecular structure ensures the active ingredients in the CBD cream are easily absorbed by the skin; while it softens and soothes the skin as well. Coconut oil also has a low melting point, which makes the cream feel nice and easy to apply.
Dutchnaturals CBD Cream is ideal for daily use and to care for dry, rough and wrinkled skin. Furthermore, it might also help to battle aging of the skin, treat skin problems like itches and eczema; and could help treat allergic reactions for example. A combination of ingredients proven so effective – it's almost too good to be true!
The cream is also available in an easy-to-use tube containing 50ml of CBD hand cream. Carefully empowered with 125mg Full Spectrum Cannabidiol (CBD) from raw and organic hemp extracts. This caring and nourishing cream is suited for daily use, to protect and care for the hands' fragile skin. Offering a wide array of benefits to the skin; thanks to the many natural ingredients in the product. CBD Hand cream by Dutchnaturals might look and smell natural, but it works absolute wonders.
Cooling water-based CBD Body Gels and Aftersun
Besides a set of nutritious skin creams as described above; Dutchnaturals is proud to present our water-based CBD Body Gel, Aftersun and Aftershave gels. Carrying a special combination of natural ingredients; the CBD Gel range proves to be the ultimate calming gel. Helping to treat irritated, burned and otherwise affected, itching or painful skin.
For example, CBD Aftersun Gel by Dutchnaturals is a proven effective, soothing and cooling body gel used to treat sunburns. Thanks to the unique formula – including our full-spectrum hemp extract with 250mg CBD per 100ml and organic Aloë Vera – this Aftersun Gel with CBD provides extra moisturizing and more relief; compared to regular Aftersun products. Besides the fast absorption of the active ingredients in the product; its succes relies on a skin-neutral approach and the positive effect it has on the balance of natural skin flora.
The CBD Body Gel however, is perfectly suited to help treat pain locally, after suffering trauma for example. Furthermore, the gels' cooling and soothing qualities make the product ideally suited to treat any type of damaged skin. Ranging from (sun-)burns to irritated skin after shaving or otherwise affected skin. Offering quick relief thanks to immediate absorption of the skin-neutral and calming ingredients. Carefully combined to offer users the best results possible.
Dutchnaturals CBD Skincare Cosmetics: unmatched quality for daily care and immediate relief!